AYA RADIO GH
Dare your dreams
Country:
Ghana
AYA Radio, transmits accurate information ;Political news, Entertainment, General news and best of Ghanaian music. Tune in and enjoy all ur favorite programs here.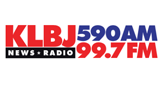 KLBJ News Radio 590 AM
Country:
United States
KLBJ is a news radio station in the United States. This is a commercial radio station licensed to Austin, Texas. It serves Austin-Round Rock metropolitan area and is owned by…
Best radio station that stream all ur favourite programs from news. sports. talk shows, politics to entertainment etc. Listen to us always and enjoy all ur favourite programs.